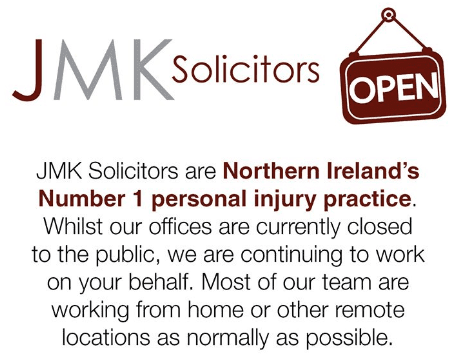 Our offices are currently closed to the Public due to the COVID-19 Pandemic.
Easter Closure Notice: Please be informed that JMK Solicitors will close completely from, and including, Friday 10th April 2020 and will reopen on Monday 20th April 2020.
Although our offices are closed, we are still OPEN for business. We have remote working facilities and we are all working from our homes. Our working hours are varied according to our home commitments. We aim to be available by phone on 028 9032 0222 between 9am and 5pm weekdays, but prefer that you contact us by email law@jmksolicitors.com
In order to minimise disruption, we are now sending all communications via email, where possible. We would request that you correspond with us via email only to ensure that we can continue to deal quickly and efficiently with all incoming correspondence.
We will be operating our Business Continuity and Health & Safety plans and we are as prepared as possible for any impact on our service.
JMK Solicitors operates to the Lexcel standard where all identified critical business functions have proven business continuity plans which staff are trained on and the plans are annually reviewed, exercised or tested.
We have remote working facilities for our teams and we will be working as usual from Wednesday 18th March,  but from our homes rather than from our offices.
We are available by phone on 02890320222 and by email law@jmksolicitors.com
We anticipate changes to scheduled appointments and court dates over the coming weeks, we will notify anyone effected as soon as possible.
We extend to all our clients and colleagues the best of wishes during these difficult times.
For more information and the latest official advice follow the link; https://www.publichealth.hscni.net.