Cieran Marshall co-ordinates taxi cases with this specialist team made up of 7 Legal Advisors. They have vast experience from dealing with hundreds of taxi cases each year.
This specialist experience means they can offer practical and beneficial advice to Taxi drivers no matter how complex their case is. This takes the stress away from dealing with insurance companies and their representatives and ensures the best outcome possible in every case.
Please call 028 9032 0222 or email law@jmksolicitors.com for more information.
At JMK Solicitors, we understand what a valuable service taxi drivers provide to the community and this view is shared by the High Court, where the Judge said –  
Cieran Marshall
EMAIL: cieran.marshall@jmksolicitors.com
TEL: 028 3083 4009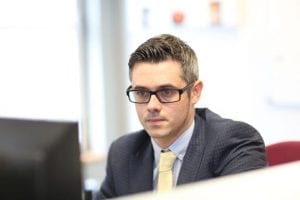 PROFILE
Cieran was admitted to the Roll of Solicitors in 2011. Prior to joining JMK Solicitors he worked in a large personal injury litigation practice in Belfast and in that role was able to gain considerable experience in the areas of public liability, employers liability and industrial disease claims. Since joining the firm Cieran manages a case load of personal injury claims of varying types.
What Cieran's Client's say about him
"Excellent service with such a quick and satisfactory resolution. Thank you."
"From start to finish it was very professional and always friendly, great service all round. I would like to thank Cieran, he rang me on the Wednesday to advise and update me and had it all settled and compensated by the end of the following week."
"The whole process was carried out professionally, everything from start to finish has been handled with great care and with a high level of sensitivity. I was consulted before each and every step. I also believe that without representation by JMK Solicitors the experience would have been much more stressful. I am convinced the outcome of my case also mattered to the solicitor (Cieran Marshall) who was representing me. Cieran showed a high degree of professionalism throughout, whilst continuing to show an understanding and empathy towards any concerns I had raised."
"I would recommend you to all my friends and family if required because of the professionalism demonstrated throughout my dealings with my solicitor."
"Many thanks for your expertise, consideration and explaining the facts of my claim. Very efficient in all aspects."
"I found my solicitor Mr Cieran Marshall to be extremely helpful throughout the entire process. He kept me fully informed and I felt he really worked hard to get the best result for me. I would have no hesitation using JMK again and should I ever have to, then I would ask for Cieran to deal with my case. Stress free process from start to finish. Thank you Cieran & JMK."
"I would recommend JMK Solicitors. Efficient, professional service. I was kept informed regularly, and everything was explained clearly."
"Very helpful all round and quick to repsond. Good run Solicitors. Cieran Marshall was very helpful."
"Good customer service, very helpful and professional. I will definitely use you again in the future, many thanks."
Ashleen Poland
EMAIL: ashleen@jmksolicitors.com
TEL: 028 9044 2976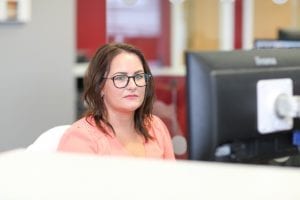 PROFILE
Before commencing her employment with JMK Solicitors Ashleen worked in general practice assisting the principal of the firm with a large caseload. Ashleen now specialises in Road Traffic Accident Claims and provides a highly efficient and determined service for her clients. Ashleen also has a prominent role in IT development within the company.
What Ashleen's Client's say about her
"Due to the quick and easy actions, I don't think you could improve the system any better."
"Great communication and excellent service. All questions were dealt with professionally and I felt reassured that I could contact and ask if there was a problem."
"Prompt response and friendly on the phone, thank you sincerely."
"Very satisfied with the manner in which I was dealt with by Ashleen Poland, kept me up to date all along."
"I highly recommend JMK Solicitors as they dealt with my case professionally and as quick as possible. Great communication via phone and email. It was such a relief after the accident that everything was taken care of from start to finish. Will recommend to all family and friends."
"Went through everything in detail and very attentive on the court day as well."
"You and your office staff were very courteous and put me at ease throughout this whole process. Thank you."
"You did what you promised and produced the desired result."
"Excellent staff, excellent service with no hassles. I would like to thank you for all your hard work, your service is top class."
Carmel Ross
EMAIL: carmel@jmksolicitors.com
TEL: 028 9044 2971
PROFILE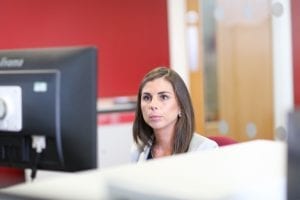 Carmel has been with JMK Solicitors since 2008 and specialises in Road Traffic Accident Claims. She applies a strong ethos towards client care and strives to ensure that each of her client's are supported throughout the legal process in order that their expectations are met and they are happy with the outcome.
What Carmel's Client's say about her
"Really good service, always took the time to give me details and updates, always felt like my best interests were at the forefront and first priority."
"Pleased with outcome. Would recommend because firm are very efficient."
"No complaints whatsoever. Absolutely first class. Best firm I have dealt with. Carmel was very pleasant and knowledgeable."
"We were very impressed with the way Carmel looked after the situation and kept us Informed. It took a lot of stress out of the situation."
"I was extremely impressed with the professionalism at all times with Carmel, from my early telephone conversations right through until the final settlement. She was fair, knowledgeable and gave good advice without ever pushing me. Communication was also always very efficient, from phone calls to written reports."
Ciara Mackin
EMAIL: ciara.mackin@jmksolicitors.com
TEL: 028 3025 7766
PROFILE
Having been involved in an accident myself, I appreciate that my clients are already experiencing trauma and I aim to take the stress of the legal process away.
I'm a keen runner, doing 5ks, 10ks, half marathons and taking part in the JMK Solicitors marathon relay team.
What Ciara's Client's say about her
"Friendly staff – kept me updated throughout the process and informed me of any issues as they arose – good communication and they know what they are doing! Great overall – would use again if needed".
"I appreciated the manner, was kept informed throughout the time with my case and the punctual manner with my calls being returned. I would thank Ciara Ferguson and Kathy Ferguson for their help and reassurance throughout my case".
"JMK Solicitors deals with everything and keep you well up to speed with what's happening on your case. They also worked closely with the repair garage and everything ran smoothly. 1st class".
"I am a Solicitor myself and I was impressed by Ciara's professionalism".
"Kept me up to date on all information, very happy with their service".
"Great customer service, helpful, friendly and knowledgeable. Thanks JMK".
"I would recommend JMK Solicitors to family and friends. The service and professionalism provided during my experience was exceptional and conducted in a friendly manner where I felt valued as a person. Thank you".
"Very fast and on the ball. I wouldn't choose another Solicitor".
"Easy to talk to and very friendly. Handled everything so professionally".
Francine Quinn
EMAIL: francine.quinn@jmksolicitors.com
TEL: 028 3025 5754
PROFILE
Francine was admitted to the roll of solicitors in England and Wales in August 2010 and Northern Ireland in December 2010, joining JMK Solicitors in 2016. Prior to this, Francine worked in a general practice firm in Belfast, heading up their litigation department. She currently specialises in road traffic accident claims, applying her many years of experience in this area to offer advice and assistance to her clients, with a genuine commitment to achieving the best outcome for them.
What Francine's Clients say about her
"I would recommend you so much because you listen and take care of your clients."
"Francine was very thorough, she kept me informed and actually cared about her clients. I cannot thank her enough. Thank you Francine."
"Francine was excellent throughout the whole process and always had my best interests at heart."
"JMK Solicitors kept me informed of my case and were on the side of the phone when I needed a query answered. Francine was great!"
"Pleasant helpful service, good advice. Listen to what you want and don't talk down to you".
"Supportive, responsive and proactive. Thank you for your support".
"Friendly, helpful staff who dealt with my case in a personal and very professional way and kept me up to date with all proceedings. Thank you Francine Quinn".
"I would highly recommend to anyone who has been a victim of a road traffic accident. They take the stress away. Thank you".
Gerard Nugent
EMAIL: gerard.nugent@jmksolicitors.com
TEL: 028 9032 0253
PROFILE
Gerard is all about the clients and has a fierce determination to secure the best possible results for his clients both in terms of compensation and making the entire litigation process as client friendly as possible. An indication of this is the considerable number of return clients which Gerard has in his caseload, clearly they are delighted with the initial service provided.
What Gerard's Client's say about him
"The time and effort taken to explain key issues was important to me, I appreciated the very professional approach adopted by JMK Solicitors. I would like to thank Gerard Nugent and his team for their help with my case".
"Communication was very good with an honest evaluation of where we were at and where we were going at each stage in the process".
"Very friendly and professional staff".
"Gerard has been excellent each time I have used JMK & wouldn't use anyone else – brilliant job".
"My service from Gerard was second to none, very professional and kept me well up to speed when there were any issues. I would advise all my friends and family to use JMK Solicitors. Excellent service all round".
"I have and will recommend you's to friends and family. I can't thank you enough for easing the nightmare I was going through."
"Extremely helpful and knowledgable staff, particularly Gerard Nugent who worked effectively and efficiently to settle my case in the best possible manner. Constant contact and communication throughout was reassuring."
Steven Gilliland
EMAIL: steven.gilliland@jmksolicitors.com
TEL: 028 3025 7766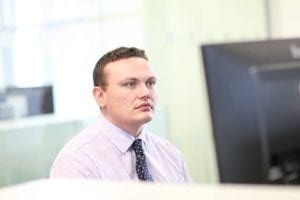 PROFILE:
Being involved in an accident can be quite a stressful situation and people don't know what to expect; it's my job to talk clients through the process and ease any concerns they may have.
I've recently taken up Crossfit which seems to take up most of my free time.