If you've been in an accident that wasn't your fault, let us help
If you've been involved in a road traffic accident that was not your fault JMK Solicitors can help you, call us on 028 9032 0222 to see what we can offer you as soon as possible following your accident.
If your vehicle was damaged as a result of someone else's negligence we can recover the cost of repairs to your vehicle or for a replacement of your vehicle along with hire car costs and any depreciation in value of your vehicle.
We can also recover other expenses such as the cost of any valuables damaged in the accident, such as child car seats, tools, electronic devices or any other items you routinely carry in your vehicle.
If you were injured in a road traffic accident that was not your fault, we can help you obtain any payment you are entitled to for your medical expenses plus compensation for pain and suffering. If your injury was serious we can help you obtain compensation for loss of earnings in the past, present or future as well provision for future care including housing adaption, vehicle and equipment needs.
If a member of your family including a child was injured in an accident we can also help them obtain compensation for their injuries.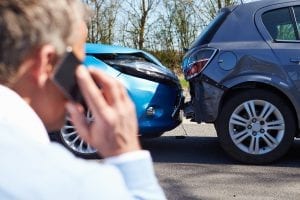 What is my Road Traffic Accident case worth?
JMK Solicitors specialise in Personal Injury and Road Traffic Accident claims. We have processed over thirty thousand cases of this nature since 2003 and we are Northern Ireland's Number 1 Personal Injury Solicitors. Call or email JMK Solicitors today to arrange a free consultation and we will give you an honest and expert opinion on the value of your case.
How long will it take to bring my case to a conclusion?
The circumstances of the accident will determine how quickly we can bring your case to a conclusion. If you have sustained only damage to a vehicle then we will aim to have your losses recovered and case concluded within three months.
If you have sustained a personal injury the severity of the injury and the circumstances of the accident will dictate how long a case takes. We aim to have all cases concluded within twelve months but it can sometimes be in the best interest of you the client to prolong the conclusion due to worsening or ongoing medical conditions.
How much does it cost to make a claim, and who pays?
Our initial consultation is free!
JMK Solicitors may also be able to offer you the benefit of our 'After The Event' insurance policy. This policy is provided to you on a complimentary basis, as long as you fully comply with its terms.
Providing that we believe that your case is likely to be successful, the 'After The Event' policy will cover your legal costs, even if you are unsuccessful.
If you are successful and the at fault party or their insurer agrees, or is ordered to pay compensation, then they will have to pay all costs as well.
If we think that your case is unlikely to succeed, we will tell you and the insurance provider immediately. It will then be your decision whether to withdraw your claim, or to continue without insurance cover.
Our Client's vehicle was damaged as a result of a road traffic accident which was not her fault. Our Client's vehicle was a border line "write off"(i.e. the market value would not have been worth the costs of the repairs), however our Client valued her car and wanted to have her vehicle repaired. The other sides representatives argued that the pre accident value of the vehicle was lower than the cost of repairs and therefore, that our Client was only entitled to recover the lower amount. The matter went to hearing and the District Judge agreed with them. We successfully appealed to the High Court. The High Court Judge found that the cost of repairs did not exceed the pre accident value of the vehicle but the Judge indicated that even if the pre accident value of the vehicle had been below the cost of repairs, the modest financial difference between the two (approximately £450) would entitle our Client to have had her vehicle repaired in any event. This was a fantastic result for our Client and indeed for any future Clients who may find themselves in a similar position!
Our Client was involved in a minor road traffic accident which occurred at the entrance to a car park. The drivers were travelling in opposite directions when their vehicles collided. It was strongly disputed by both drivers who was to blame. JMK Solicitors were instructed to recover our Client's insurance policy excess of £250.00. Court proceedings were issued and the matter ran to a full hearing. The Judge decided in our Client's favour and awarded the full amount claimed. Our Client was obviously delighted with the result and following the hearing wrote to us after his case concluded stating JMK Solicitors "were extremely helpful and friendly throughout my claim. Never once did they doubt my statement. They stood back and fought my corner to the end". It does not matter to us how big or small your claim is we will always try to achieve the best outcome possible